Our steel buildings & structures > Warehouses & Storage buildings
DOZENS OF DREAMS BUILT ON A FRISOMAT
Frisomat's unique steel building blocks are the building blocks for every business, with numerous possibilities and applications.

Want to discuss your project?
Warehouses & Storage buildings
Looking for a steel warehouse to store your products under specific conditions or a steel storage hall on concrete blocks with an open side? Frisomat's unique steel construction system can be fully customised to suit your wishes. Do you need a warehouse or storage hall for bulk or product storage? There is a Frisomat solution for every need. If your business is growing, our modular system simply grows with it. Frisomat has all the necessary expertise and experience at hand to guide your construction project from start to finish. We deliver quick, flexible, sustainable and cost-efficient solutions.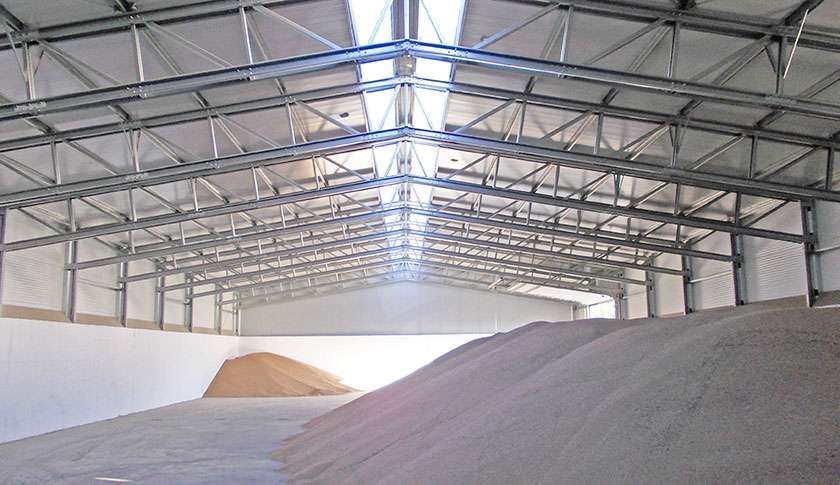 Discover the different applications for warehouses & storage buildings
Our process behind your new building
Frequently Asked Questions (FAQ)
WHY BUILD MY NEW WAREHOUSE WITH A COLD-FORMED STEEL STRUCTURE?


Your Frisomat industrial storage building is designed and produced for your specific industry, requirements and construction site. This means you get an efficient and tailor-made solution. Steel storage halls provide enough space for your business, regardless of the size of your storage or production area. They are also easy to extend, both lengthwise and widthwise.

If you are considering building a warehouse, it is good to know that maintaining your storage space is crucial. One of the main advantages of our galvanised steel structures is that they require little or no maintenance. This means you don't have to close and clear your warehouse for maintenance. This translates into significant savings in the long run.
HOW LONG DOES IT TAKE TO BUILD A WAREHOUSE?


A key advantage of Frisomat's unique steel building system over traditional building materials is the speed of construction. With our prefabricated structures, your steel building is quickly assembled. As a result, your custom-built warehouse will be up and running before you know it.

Several factors can influence and determine the construction time of your new warehouse:
Size: Larger structures naturally take longer to build than smaller projects.
Complexity: Simple structures will take less time to build than buildings with lots of extra options.
Experience: Building requires experience. At Frisomat we have teams with years of experience. If you have your own team, you can always rely on our Frisomat Academy for the right training.
Weather: As with any construction project, extreme weather conditions can delay progress.
HOW MUCH DOES A FRISOMAT STEEL BUILDING COST?


The final price of a Frisomat steel building is largely determined by the size and finish of the building. We tailor each industrial building to the needs of your company and the specific industry in which you operate. In addition to the size of the project and any additional details, external factors can also influence the price. That is why we constantly monitor steel prices around the world.

Whatever type of warehouse you want to build, the Frisomat team is ready to help you determine the exact cost, with no unexpected surprises or hidden costs. Don't hesitate to discuss your next building project with Frisomat's experts. Our specialists will assist you in determining the final price of your industrial building.
CAN I EXTEND A FRISOMAT WAREHOUSE?


Is your business growing and do you need extra storage space in your existing warehouse? That's great news! Frisomat has the perfect solution for expanding your warehouse.

Length extension: our buildings can easily be extended in length. Thanks to our unique design and convenient assembly system, our expert team can easily extend the warehouse to perfectly fit your current needs.

Width extension: we can add a new building to the existing one. This new building may or may not have similar technical features. The new space will blend seamlessly into the existing building, retaining its architecture and facilities. will connect to the existing one, respecting the architecture and facilities of the previous hall.
WHAT GUARANTEES DOES FRISOMAT OFFER FOR ITS STORAGE UNITS?


Frisomat uses only the highest quality cold-formed galvanised steel. This is because we are convinced that this type of steel offers the ideal combination of lightweight construction, maximum load-bearing capacity, excellent corrosion resistance and an aesthetic result that is appreciated by more than 37,000 customers worldwide.

Steel is the world's leading construction material because of its strength and durability. With the highest strength-to-weight ratio of any building material, this means that every steel warehouse is extremely solid. The steel we use for structural elements meets the stringent S390GD+Z quality standard and we also offer S550 steel. We guarantee this quality at every stage of production, without exception. This strength gives you more design freedom when creating a building.

Do you have any questions about Frisomat's guarantees? Get in touch with us! The quality of our product is only one of the aspects that Frisomat guarantees. Our experts will be happy to advise you.